September 7, 2011
Vancouver, B.C. –Vancouver-based animation studio Slap Happy Cartoons Inc., in partnership with Canucks Sports & Entertainment, have worked together to find engaging ways to enhance in-arena messaging using Canucks mascot Fin. Slap Happy Cartoons revitalized the beloved mascot and brought him to life through a series of animated shorts shown during games on the video screen at Rogers Arena. Fin is shown in animated digital short videos interacting with fans at a Canucks game.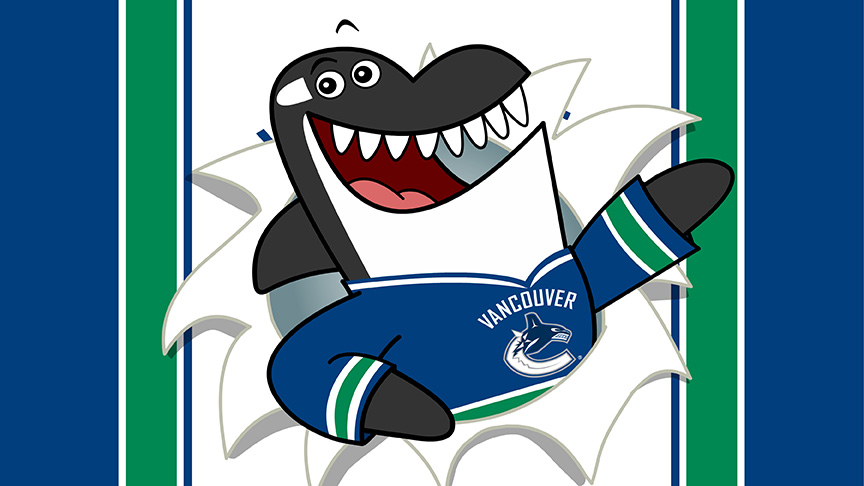 "Canucks mascot Fin is an important part of their in-arena experience and brand awareness with their younger fans," said Josh Mepham, Slap Happy Cartoons Partner and Director. "While we took the job seriously, we also had a lot of fun with it. Added Mepham: "It was an excellent project for Slap Happy Cartoons to be a part of. We worked with Canucks Sports & Entertainment to define the business objectives and to develop a creative strategy. We then put our focus on creating engaging, relevant animated shorts that not only entertain, but also inform fans of arena rules and etiquette – using humour. Fin is a great character and using him to engage fans in appropriate in-arena behavior is important."
The Canucks chose Slap Happy Cartoons to produce the five shorts because of the creativity of the team and their extensive experience in developing world-class animation.
ABOUT SLAP HAPPY CARTOONS
Slap Happy Cartoons has offices in Vancouver, B.C. and Los Angeles, Calif. Founded by top animation professionals Kathy Rocchio, Greg Sullivan, Josh Mepham and Vito Viscomi, Slap Happy Cartoons works with a global base of clients, which include development partners Comedy Central, Kids' WB, Studio B Productions and DHX Media. With a wealth of experience from working on award-winning animation productions, the founders launched Slap Happy Cartoons to realize their shared vision and passion for creating original, funny – and sometimes twisted – cartoons for both kids and adults.