July 5, 2023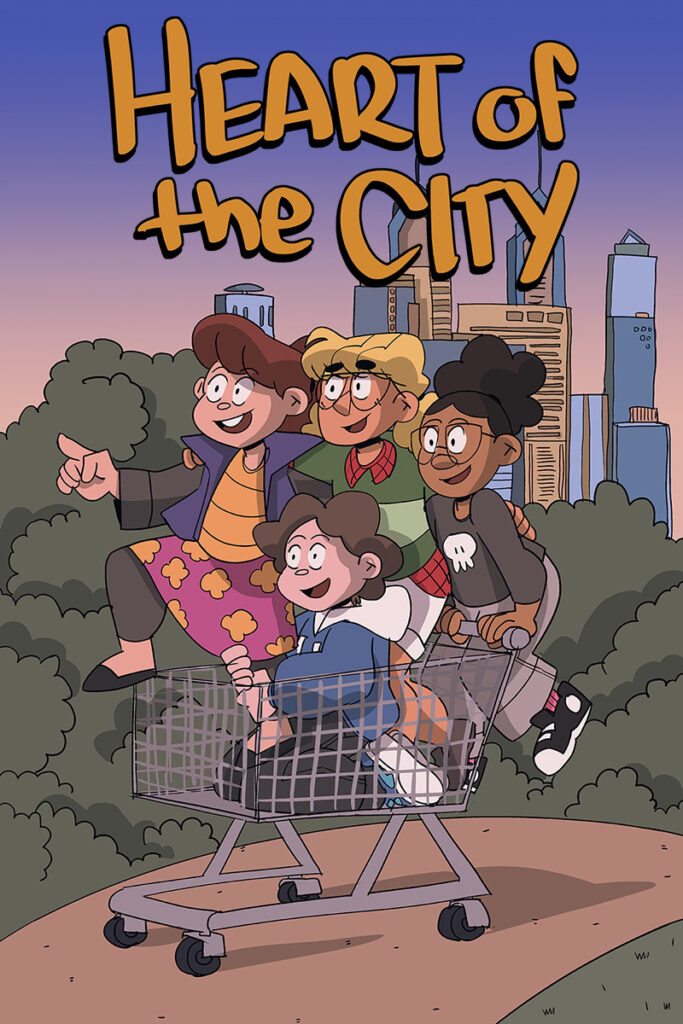 Vancouver's Slap Happy Cartoons has announced a partnership with Andrews McMeel Entertainment, a division of global media company Andrews McMeel Universal, to develop the popular newspaper, web and book-based property Heart of the City.
The Heart of the City comic strip debuted in newspapers in 1998 and is syndicated by Andrews McMeel Syndication in both newspaper and web format. Today, it appears in 50 newspapers and news sites across the U.S., Canada, and a number of other countries including India, the Netherlands and Trinidad.
Andrews McMeel Publishing released the first Heart of the City book collection, Heart Takes the Stage, in May 2022 to strong reviews.
Heart of the City tells the story of Heart, a girl with big dreams and a love of drama, who lives with her mom, Addy, in Philadelphia, and has always had the support of her best friends, Dean and Kat.
The strip has enjoyed a strong following since it first appeared, when it was originally created by award-winning cartoonist, writer and animator Mark Tatulli. In 2020, Tatulli handed the story over to acclaimed cartoonist and editor "Steenz." who developed a new storyline in which Heart and her friends were a few years older – she is now 11, but she's still the same Heart: energetic and funny, with a pronounced weakness for celebrity fads and an obsession with mega-stardom.
This rejuvenated Heart of the City, which combines familiar characters and situations with new arrivals and the preoccupations of a tween cast, has enjoyed a strong reception, both as a comic strip and the recently-released Heart Takes the Stage. Publishers Weekly praised the book as "a hilarious modern update," noting that "the compact stories each pack a punch" and, "Steenz's deadpan humor artfully paints a madcap adventure through middle school's highs and lows."
Slap Happy Cartoons and Andrews McMeel Entertainment believe the strip has strong potential in other formats. The target audience for Heart and her adventures – six- to 11-year olds and families – is a large one, and the diverse characters are very appealing: kind, funny, a bit chaotic and slightly eccentric, though their day-to-day challenges – maintaining friendships, trying to be popular and occasionally focusing on schoolwork – are highly relatable for most youngsters and their parents.
"Heart of the City is a cartoon that has established itself as a big favorite with online and newspaper readers since 1998 and has successfully reinvented itself for the 2020s without losing the wit, fun and spirited characters its audience has grown to know and love. Today in the hands of the very talented Steenz it has underlined its promise and is ready to expand its reach," said Josh Mepham, Partner and Director of Development at Slap Happy Cartoons.
Bridget McMeel, Executive Producer, Andrews McMeel Entertainment, notes, "The positive response to the successful handover of Heart and her story from Mark to Steenz has been enhanced by excellent reviews for Heart Takes the Stage. This is a character and storyline with vast potential in multiple formats. We're looking forward to working with Slap Happy on taking Heart's adventures to an even bigger audience."
Original Article: https://www.animationmagazine.net/2022/07/heart-of-the-city-comic-gets-animated-with-slap-happy-andrews-mcmeel/